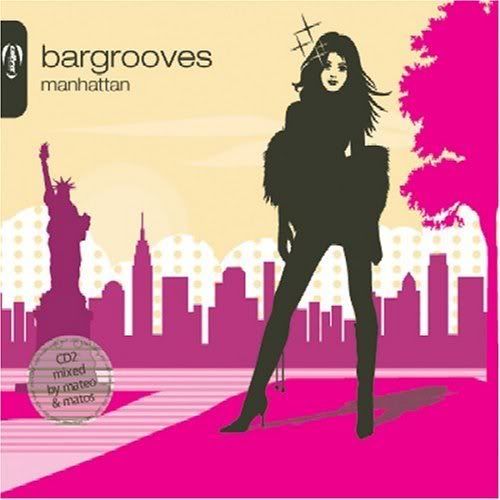 bargrooves: manhattan v.15
Mixed by bargrooves' own Ben Sowton and dons of the NYC house music scene, Mateo & Matos, this double CD release brings together the finest quality funky house, interwoven with touches of vocal and latin house. Standout tracks come from Jay-J, Blaze, Joe Clausell, K-Klass with Rosie Gaines, Audiowhores, Ultra Nate and Masters at Work, plus three unreleased tracks which are exclusive to this album.
--
"Packed with killer hooks and quality vocals, this is the best house mix to grace our stereo in months!" (iDJ)
--
"Another treat for connoisseurs of deep yet funky house music. 5/5" (Update)
--
"bargrooves manhattan really is dance music's cream of the crop." (RWD)
--
Disc one of manhattan is compiled by Ben Sowton, founder of the bargrooves series. Paying his dues to favourite producers Jay-J, Richard Earnshaw, Grant Nelson and Physics, Ben's selection is refreshingly a touch more vocal than is typical of his deep, jazzy sets. Highlights include two of Seamless Recordings' own works, namely the Souldoubt mix of Soularis' 'Freeway' and the original of Ross Couch's 'I See You'. Perfect examples of how to use musical hooks to stunning effect.
Taking inspiration from the dancefloors of Manhattan such as Cielo and Bungalow 8, experienced Big Apple producers Mateo & Matos have been chosen to provide the all important guest mix. A chance for bargrooves to show off its influences and friends – a chance that they make the most of.
Showcasing three of his own productions, the inspiration for Eddie Matos' music is clearly Latin, jazz and deep house which plants it very firmly in the melting-pot tradition of New York City. With credits reading like a who's who of NYC house music, their selection is very much the real thing. Blaze, Master At Work's Louie Vega, Joe Claussell, and Jon Cutler rub shoulders with the very UK producers they have inspired such as Phil Asher, Knee Deep and Bobby & Steve - a nod to their trans-Atlantic cousins.

Tracks
Disc 1

1. Love Is : Jay-J & Mark Grant ft. Latrice Barnett
2. Second Guess (Grant Nelson remix) : Reel People ft. Jag
3. Dance With Me (DJ Spen & The Motherfunkaz mix) : K-Klass ft. Rosie Gaines
4. 8 Letters (Richard Earnshaw remix) : Holmes Ives ft. Avalon Frost
5. Feel It (Original mix) : Ross Couch
6. Controls the Sound (Original mix) : Fresh & Low
7. Hush Hush : Physics
8. I See You : Ross Couch
9. Freeway (Souldoubt Deeper mix) : Soularis
10. El Divorcee : Chuck Love
11. Subject of My Affection (Dub Vibe mix) : Audiowhores ft. Alexis Hall
12. Feel Love (Liquid People remix) : Ultra Nate

Disc 2

1. Set You Free : Eddie Matos
2. Free (Knee Deep Classic Mix) : Seawind Project ft. Emily McEwan
3. Can I Get : Simon Aston ft. Laura Vane
4. In My Heart (Main Vocal mix) : Bobby & Steve ft. Pete Simpson
5. Cuanto Te Quiero (Original mix) : Eddie Matos
6. Just Like That (Original mix) : Jazz Sensation
7. Runnin' (Original mix) : Jon Cutler ft. Pete Simpson
8. Freedom : Inaya Day & Jackii Gilford
9. I Am Soul : Samba La Casa ft. Errol Lewis
10. The Way (Restless Soul mix) : Vanessa Freeman
11. Quiere Bailar : Eddie Matos
12. Kalakuta : Kiko & Pepe
13. Sunshine (Sacred Rhythm Mix) : Louie Vega ft. Blaze & Raul Midon